Information design for the concept of Personalization and Net Neutrality
'A Timeline of Divestment', for article 'Students Look for Answers' in Michigan Daily
Walking Map Graphic for University of Michigan Tour Guide
Icon design for an app for a Visit to a New City
Each icon represents food service, navigation, social networking service, selection of destination, and transportation.
Problem: It is always exciting but fearful to go to a new city that you've never been to, whether you are traveling or moving. In reality, a lot of people lost their way or don't know what to do in their visit to a new place. People are likely to waste their time and would like to avoid this problem.
Approach: The problem requires an application design project that can guide and help out people in the new city. There is no single app that can resolve various problems that you experience in a new city; we always needed to download several apps with different functions. So I came out with a single application that has various functionality needed on a first visit to the new city; the application would mainly have five functionalities.
Symbology: The project requires symbols that can guide and help people exploring a new city. The whole symbolic library is being a  guidance for people, offering what they should do and how to approach in their visit to a new city. In overall, the symbols are informational; it offers users to do a critical thinking or problem solving in a place that they are not familiar with. Thus each symbols are designed simple and eye catchy to make it understandable for various and diverse users.
QR code sticker for stress relief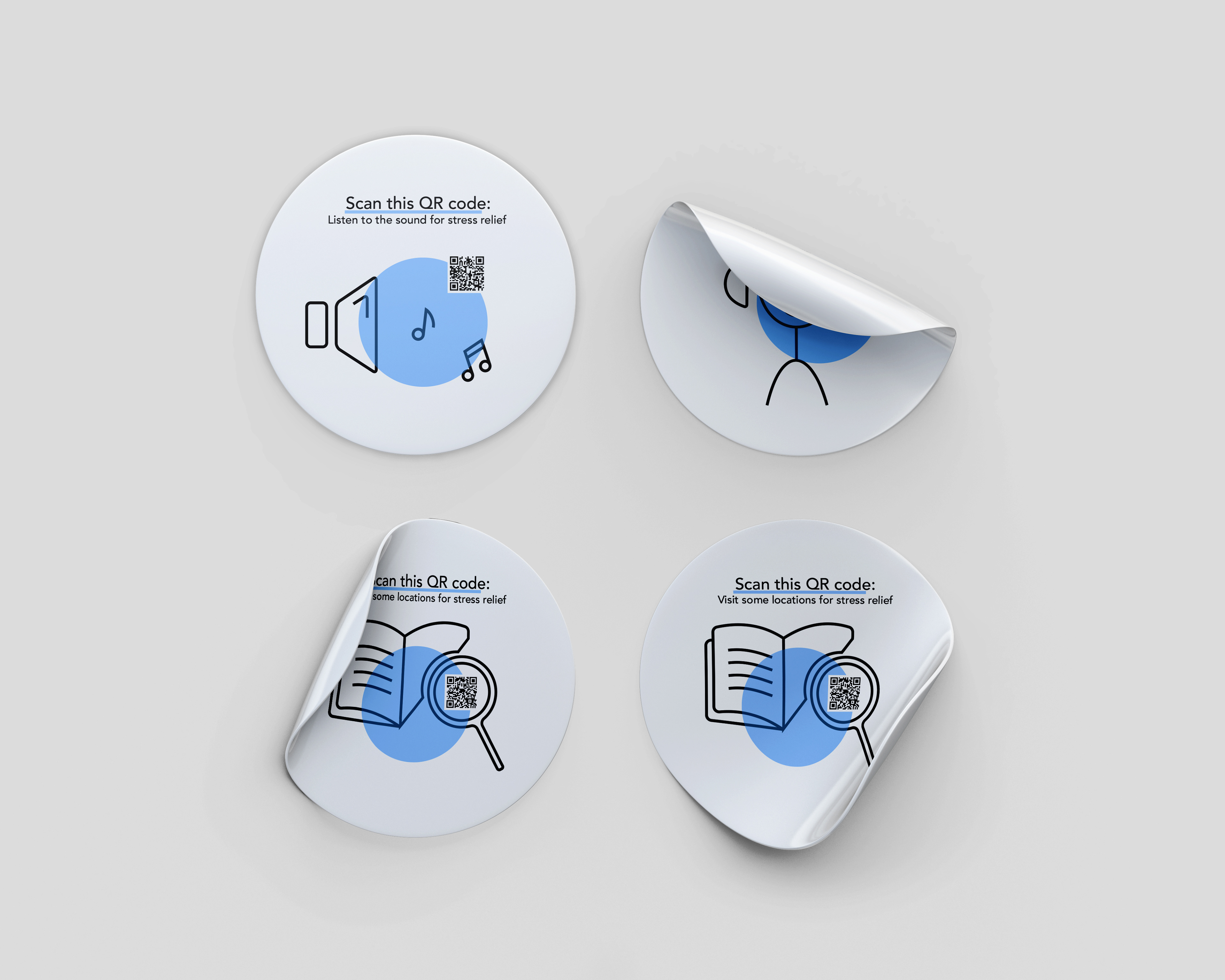 This is a series of sticker with QR code that directs audience to the instant solutions for a stress relief. 
It is aimed to reduce one's stress level through different ways by suggesting various methods: music to listen, location to visit, physical exercise to do, quotes to read on, and lastly by providing emergency contact. It is intended to inform people that they can control to reduce their stress level through suggested methods given through the QR code.