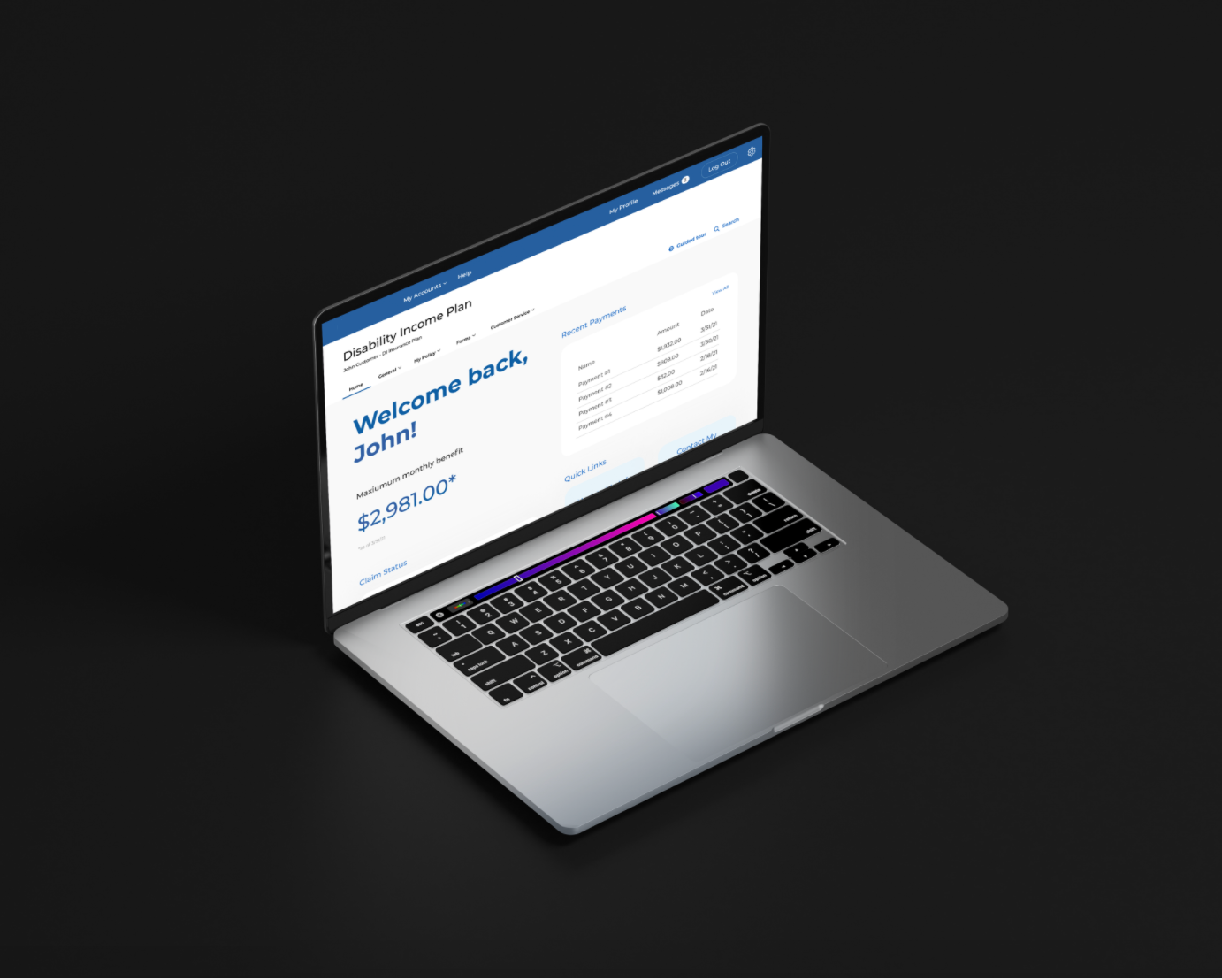 The client company aims to help

individuals by providing income protection through disability income insurance. The team designed and prototyped a working digital process flow that allows the key stakeholders in the disability insurance market to collaborate digitally and makes the experience parallel to – or better than – consumer digital expectations.
UX Design team, Business Development team, 
- The client is a leading global investment management and insurance company
- 

Best known for serving small- to mid-size employers
- Their mission is to foster a world where financial
security is accessible to all
- 

Help more people save enough, protect enough, and have enough
- Provide deliverables for investing, retirement savings, and insurance
- Lack of brand loyalty and meaningful customer experience within Disability Insurance
- Customer confused about who to contact about their policy and how often
- Customers confused about their policies due to unintuitive resources
- Lack of understanding customers' needs' regarding policy information
- Unknown as to how to communicate with customers more often and effectively
Objective 1: The stronger relationship between client and its customer 
- Develop a digital process to maintain contact and facilitate communication 
Objective 2:  A better understanding of the client's DI insurance services 
- Educate current customers about the benefits and logistics of long term DI insurance 
Objective 3: A user interface to accommodate the needs of DI customers 
- Provide access to related data 
- Keep customers updated on their info
Preliminary research: User Interview
Prior to the design phase, the team has conducted preliminary research to understand customers and to gather insights. The research contains interviews with participants who purchased Northwestern Mutual insurance (competitor). 
User Interview Questions and Main Takeaways:
Contacts NM to discuss several accounts, like full life policies for more savings or vehicle and life insurance policy
Reaches out before paying the bill to understand why they are paying so much
Wishes more often contact: they don't know what plan they purchased if it was a long time ago and with income changes. They don't know if the plan should be changed accordingly and if it carries the same value as it did a few years ago
Enjoys how hands-on their NM agent was and how the agent knew what products NM offers whenever asked. Appreciates how much the agent cared about the situation 
Got switched to a new agent and is confused if they are independent or working for NM
Like the portals- can get a total net worth for family and can connect agents and bank accounts to it. Can connect any account with monetary value to show all of incomes, credit and debit cards, and to show total net worth. Also likes the aesthetic of the portal
Visits the portal on app and website
On their portal, their investments and insurance are split into two separate areas of the website, so with the exception of looking at the whole net worth summary, they have to go to two different areas for that information. They would want to see everything in one spot
Doesn't read the letter that is sent from NM about the plan, would rather an agent talk it through 
Would love text reminders. thinks the text is the next closest thing to a phone call and can get to it at your own time. 
Would like to receive text reminders 2-4 times a year
Want to update information online and spend more time talking with the advisor about more important things regarding the insurance plan
We created a list of personas of potential users based on the pool of DI customers
The following were the original product requirements that were established at the beginning of the project:
Increased customer satisfaction with frequency of contact 
Increased customer satisfaction with methods of contact 
Faster access to policy-related documents
Higher customer satisfaction when accessing policy-related documents
●
Accessing Billing Statements:
Faster access to billing-related documents
Higher customer satisfaction when accessing billing-related documents
●
Updating Personal Information:
Faster process for customers to update personal information (residence address, phone number, email, financial information/salary )
Higher customer satisfaction when updating personal information (residence address, phone number, email)
Faster process for customers to access claim forms
Higher customer satisfaction when accessing claim forms
--> Accordingly, we have set our Minimum Viable Deliverable to include DI Policy definitions, Payment information, Filing Claims, Update customer information, and Contact Info
From the insight, the team developed the feature list that combines the functionality of the Client's old website and new directivity. 
Representative info, Email form
Policy details including riders (and a summary of main points), Explanation of DI 
in general, Definitions of DI terminology, Explanation of premium increase, 
Billing statement, Snapshot of next payment 
Instructions/tutorial for filing a claim, Past claims, Downloadable documents, pre-filled forms to send to a company, Flowchart/tracking for the claim filing process
Reminders for when the next planned company contact is (every 3 years), 
Small/quick surveys on how helpful certain features are, Email newsletters, 
Mailing list capabilities, SMS reminders 
General settings including desired contact frequency, Change address/email/bank info/income info/medical info
After completing feature identification,  the team developed a potential low-fidelity prototype
The team has conducted two phases of user testing, with both current customers and noncustomers. 
User study in which first-round is to updates/access information via the current portal and second-round does so via our redesigned portal 
Measure the amount of time spent, and ask users to rank their satisfaction on a scale of 1-5
The average time taken to update personal information is reduced by at least 20% when using the redesigned portal
The average satisfaction rating for accessing policy-related documents is increased by at least 1 point or 10% when using the redesigned portal
Hi-Fidelity Prototype: Key Features and Design Decisions
The portal is divided into 5 sections: Home, My Policy, Forms, Customer Service, and Learn More. This design mirrors the design of the navigation from the demo sites to maintain consistency across the client's products:
While the style is consistent, there are slight variations in features between the two navigations. Namely, the "My Profile" feature on the top right was not included in our version of the navbar. A profile icon was added instead and moved to the rightmost corner. This is where users can access settings and update their contact preferences. Testing revealed that users were able to locate profiles and settings best when these features were consolidated under a single profile icon located on the far right corner.
The subpages (Home, My Policy, Forms, Customer Service, and Learn More) are organized in order of relevance to users, with My Policy and Forms being more relevant than Customer Service or Learn More.
The homepage displays a welcome message, the customer's maximum monthly benefit, recent payments, and links to the pages that are anticipated to be the most relevant to users (based on user interview data). For the claim status section on the bottom left, the icons will be greyed out and the message "You currently do not have any claims filed" will be displayed if the customer is not in the process of filing claims as users mentioned that it might be confusing to see the claim status section if they are not in the process of filing a claim.
We found that displaying the maximum monthly benefit was most important to users who have filed a claim in the past. Among users who had never filed a claim, some were indifferent to the maximum monthly benefit being displayed on the homepage.
Most users responded either positively or were indifferent to the recent payments. One user noted that it was not useful to him as he was very familiar and up to date with how much his payments are and when they were made.
Users can view information about their policy, including past claims, past payments, policy details, and premium increases. User testing revealed that it is important for customers to be able to differentiate which riders apply to their policy versus which ones are not applicable. It would also be beneficial to provide users with instructions on how to add riders to their policy, which is why these instructions are provided within the "Additional Available Riders" section along with a link to contact their Financial Advisor.
Customers are often frustrated when their premium increases but they do not know why. The premium increase page helps customers understand why their premium has been increased and by how much.
The Learn more page is aiming to educate customers on what Disability Income Insurance is. Prior to the design phase, there was an insight that some customers aren't aware of their DI. It makes it easier for customers to navigate the 'Learn more' page if they have questions before having to contact the company. The page includes three functions, which are steps on how to file a claim, what DI is, and the definitions.
5. Customer Service Pages
Customer Service pages contain two functionality that users can learn more about their Disability Insurance plan, which is Contact and Frequently Asked Questions (FAQ). Contact page guides users to the information of representatives including their photo, roles, and specific contact information. It is easier to understand who to contact about what, by including explanations of what each person can do for the customer and their contact information. The FAQ page lists questions that users are likely to have. Users can expend the arrow icon to see the details.
The form is a page that provides users to Submit a DI Claim or to Manage Policy. Both pages contain a list of forms that users can download and fill out to submit to the company. Texts such as PDF files are colored blue to show color contrast and to highlight the significance. The old DI website didn't have forms and it was only available through an external website which is the client's official webpage. It would be beneficial to provide users with a page with downloadable forms that they can potentially use.
Users can update the frequency at which they'd like to be contacted, which quick links they'd like displayed on their homepage, as well as update personal information such as name, address, email, and phone numbers. Contact Preferences give people the flexibility to choose how they'd like to be contacted. In the prior user interview, there was interest in being contacted through text, so we included an option for text as a contact preference. On the client's current website, updating personal information had to fill out a form and send it through the mail. It would be beneficial for users to update their information solely through the website.
Based on feedback from current customers and non-customers, internal team analysis, and communication with the sponsors, we developed some recommendations that would contribute to a more enhanced user experience for the DI insurance market. The following are a list of recommendations that our team has developed:
●  Allow customers to fill and send forms online rather than through fax or mail.
●  Add functionality to the current mobile application to reflect features on the 
desktop version of the portal.
●  Explore functionality for additional riders to be suggested to users by monitoring changes 
in their policy and activity on the website.
●  Integrate DI portal with billing portal.